Zest Dessert Paste - Blueberry Blues 1kg
Zest Dessert Paste - Blueberry Blues 1kg
Using natural ingredients with strawberry puree added, Zest Blueberry Blue's has a juicy, sweet & sour blueberry aroma.
Natural flavour compound to flavour any dessert
Natural colour used
Strawberry puree added
Bake stable
Recommeded dosage:
25g - 30g flavour : 1kg of total mixture of cream filing
10g -15g flavour : 1kg of dough/batter
Product net weight: 1 kg
Made in Singapore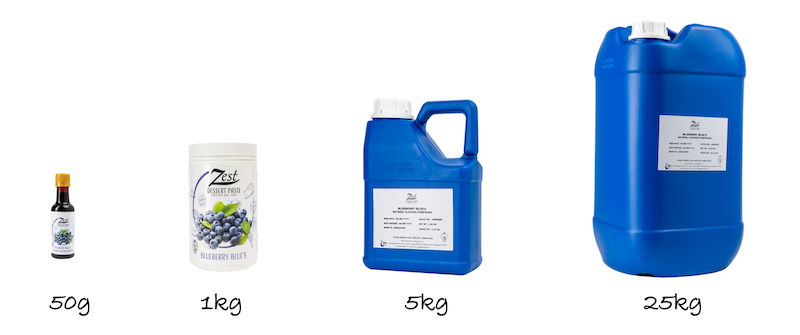 Ingredients:
Blueberry puree, water, natural flavours, glucose, humectants (E1520), stabilizer (E415), acidity regulator (E330), natural food colour.
Blueberry cheese cake recipe
Ingredients
Blueberry cheese filling 
400g  Blueberries  
25g    Sugar  
5g      Lemon juice  
50g    Almond slice 
250g  Cream cheese
200g  Sugar  
100g  Whole eggs  
1.5g   JAPS Vanilla extract
20g    Zest Dessert Paste – Blueberry Blue's
50g    Sour cream
20g   All purpose flour
1g     Salt
Crust
200g  Graham cracker 
85g  Melted butter
50g  Sugar
Directions
Garnish
Directions
Preheat oven to 165 degree C.
Blend fresh blueberries & place in a pot over medium heat. Add sugar, lemon juice. Bring to  a boil, then reduce and simmer for 10 minutes stirring consistently. Let cool and store in chiller.
Crust: In a large bowl, mix the graham cracker crust, melted butter, sugar & almond slice. Spread evenly on the bottom and sides (1.5cm) of an oiled 8" spring-form pan. 
Blueberry cheese filling: Cream together cheese & sugar until smooth. Then add the eggs one at a time. Stir in JAPS Vanilla extract&Zest Dessert Paste – Blueberry Blue's. Stir in the sour cream, AP flour and salt. Lastly fold in the blueberry puree from the chiller.
Pour the mixture over the crust and bake for 20 minutes. Or until center of the cheese cake jiggles slightly.
Allow to cool and place fresh blueberries on top of the cake for garnish just before serving.